Naval Station Tour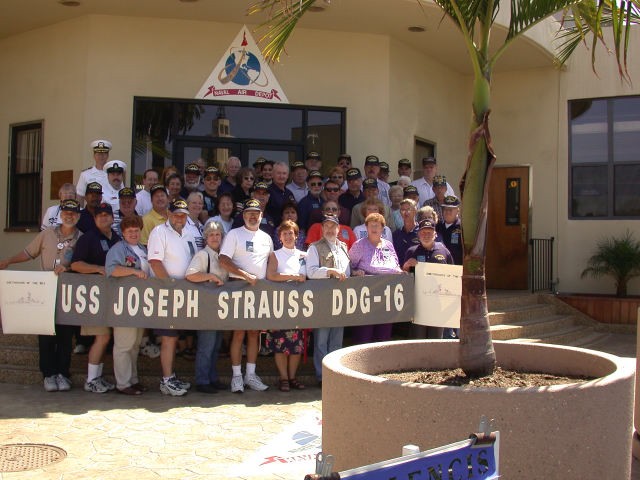 Jerry Halfman wishes to acknowledge the following people who helped make the tour possible:
---
NAME FUNCTION
---

CAPTAIN PETER LASZCZ COMMANDING OFFICER
CAPTAIN JAMES WOOLWAY EXECUTIVE OFFICER
MARY ANNE BLAUM EXECUTIVE ASSISTANT TO THE COMMANDING OFFICER
TERRY MORAN PUBLIC AFFAIRS OFFICE
GAIL BAKER SECURITY DEPARTMENT
MIKE FULLER COMPONENTS PROGRAM MANAGER
GERALD HALFMAN DEPUTY PROGRAM MANAGER INSTRUMENTS
JIM COMPAGNON AIRCRAFT SERVICES PROGRAM MANAGER
MARGUERITE FLOYD SUPERVISOR INSTRUMENTS
JOHN RODRIGUEZ SUPERVISOR INSTRUMENTS
JOE HOULIHAN SUPERVISOR PAINT
JOE FELICIANO VIDEO DEPARTMENT
SCOTT JANES VIDEO DEPARTMENT
DANNY MCGEHEE VIDEO DEPARTMENT
KENNETH COOPER COMPOSITE FABRICATOR
---

TOUR HIGHLIGHTS
from Jerry Halfman

THE USS JOSEPH STRAUSS DDG-16 TOUR ARRIVED AT NAVAL BASE CORONADO ON SATURDAY, 21 SEPTEMBER. THE TWO BUSES WERE MET BY MARGUERITE FLOYD AND JOHN RODRIGUEZ WHO ACTED AS ESCORTS TO THE NAVAL AIR DEPOT HEADQUARTERS, BLDG. 94. THE GROUP WAS WELCOMED ON BEHALF OF THE COMMANDING OFFICER, CAPT. PETER LASZCZ, WHO WAS ON TRAVEL, BY CAPT. JAMES WOOLWAY, EXECUTIVE OFFICER AND MARY ANNE BLAUM, EXECUTIVE ASSISTANT TO THE COMMANDING OFFICER. THE GROUP ASSEMBLED ON THE STEPS OF BLDG. 94 BEHIND BANNERS PROVIDED BY JIM COMPAGNON AND JOE HOULIHAN, MEMBER OF THE DEPOT AIRCRAFT SERVICES DEPARTMENT.

THE TOUR MOVED INTO THE BOARD BRIEF AREA AND JERRY HALFMAN EXPLAINED THE MANY CHARTS POSTED AND HOW THEY REPRESENTED THE DEPOT'S EFFORTS IN SUPPORT OF THE FLEET. WE THEN WENT TO THE CONFERENCE ROOM WHERE THE XO DETAILED THE CRITICAL ROLE PLAYED BY NADEP NORTH ISLAND IN SUPPORTING THE FLEET REQUIREMENT. FOLLOWING HIS BRIEF WE WATCHED TWO VIDEOS, THE FIRST FEATURED VISE ADMIRAL JOE DYER, COMMANDER NAVAIR EXPLAINING THE NAVAIR TEAM MISSION. THE SECOND VIDEO TITLED "FIXIN FOR A FIGHT" WAS CREATED BY THE DEPOT'S OWN VIDEO CREW AND WAS AN AWARD WINNER AT THE SAN DIEGO COUNTY FAIR.

JERRY PRESENTED THE XO AND MARY ANNE AN AWARD IN RECOGNITION FOR THEIR OUTSTANDING SUPPORT OF THE INSTRUMENT BRANCH. HE ALSO PRESENTED CHIEF BART WITH THE NAVAIR "LOGO PIN" AND MADE ALL USS JOSEPH STRAUSS DDG-16 ASSOCIATION MEMBERS HONORARY NAVAIR TEAM PLAYERS.

THE TOUR THEN MOVED TO THE F-18 ASSEMBLY FLOOR TO SEE FIRST HAND THE DEPTH OF REPAIR PROVIDED AT THE DEPOT LEVEL IN SUPPORT OF THE WORLD'S MOST SOPHISTICATED WAR FIGHTER.

NEXT STOP WAS THE COMPOSITE REPAIR AREA WHERE MIKE FULLER, COMPONENTS PROGRAM MANAGER EXPLAINED THE EXTENSIVE ROLE COMPONENTS PLAY IN THE FLEET SUPPORT PICTURE. THE GROUP WAS THEN PROVIDED AN IN DEPTH EXPLANATION OF COMPOSITE
MATERIAL REPAIR BY KENNETH COOPER, COMPOSITE FABRICATOR. IT WAS THEN TIME TO BOARD THE BUSES AND TRAVEL TO NAVAL STATION TO TOUR THE USS HIGGINS DDG-78.