Joseph Strauss........REUNION 2000
WASHINGTON, D.C.

CLICK ON PHOTOGRAPH TO VIEW ENLARGEMENT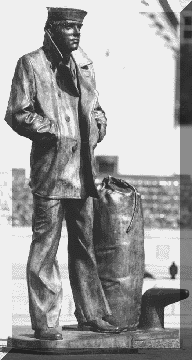 The Lone Sailor statue represents all people who ever served, are serving now or who are yet to serve in the Navy. The Lone Sailor is a composite of the U.S. Navy bluejacket, past, present and future. He's called the Lone Sailor, yet he is hardly ever alone, standing there on the broad granite plaza which forms the amphitheater of the Navy Memorial. Visitors to the Memorial are immediately drawn to him to peer into his far seeing eyes, to admire him or size him up, to see if he's as tough or as gentle as he seems. Visitors find that he is all that he seems and probably more.
The founders of the Navy Memorial envisioned this Lone Sailor at 25 years old at most, a senior second class petty officer who is fast becoming a seagoing veteran. He has done it all -- fired his weapons in a dozen wars, weighed anchor from a thousand ports, tracked supplies, doused fires, repelled boarders, typed in quadruplicate and mess-cooked, too. He has made liberty call in great cities and tiny villages, where he played tourist, ambassador, missionary to the poor, adventurer, souvenir shopper and friend to new lands. His shipmates remember him with pride and tell their grandchildren stories, some of which, like him, are seven feet tall.